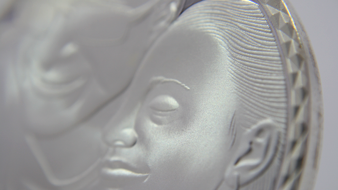 Embossing of coins – individually for every occasion
The wedding of good friends, an upcoming competition of the sports club or the anniversary of a many years employee – there are various occasions where a gift should express honour and appreciation. In earlier centuries, Kings, statesmen or sportsmen were honoured through the embossing of medals with a motive (hereinafter called coins, see disclaimer), and these and many other options are available with us for you as personal gift idea. Our website provides you the embossing of coins according to your wishes, where our huge range of materials and design ideas guarantee your aesthetic as well as price expectations.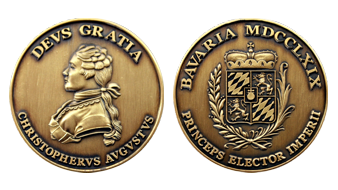 Design the coins individually with a creative embossing
A glance at our portfolio quickly shows you the variety of designs and materials that we use for the embossing of your coins. With gold or silver coins, you create an individual gift of high material value, that becomes an unforgettable and high-quality souvenir to the recipient over the decades. We offer coins made of PVC or steel for a smaller budget that still have a valuable appearance and represent thanks of your inscription of something unique. You can always specify the motives and lettering to decorate obverse, reverse, or the edge of the coin, for example, with the help of our coin configurator.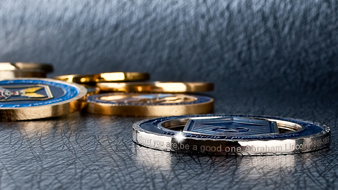 Create a lasting value with unique coins
Whether as a sports medal, a challenge coin or a honorary coin for professional and private events – the embossing of coins discovers more and more opportunities than extraordinary appreciation. We show you on our professional website how easy it is nowadays to achieve the embossing of medals and coins. In a few minutes, you can design your very personal coin here by uploading your motive and by choosing own captions. If the questions arise here, we help you gladly by telephone in a consultation conversation. Thus, faster than expected embossing of coins as a gift idea with our fair order conditions will impress you.

Disclaimer: Our products on this page are known as "Coins" in order to comply with general linguistic usage, . It should be expressly pointed out that it concerns, however, individually embossed medals and no current or former means of payment / currency.