Company Coins: Milestones Marked with a Coin
Templar Executives Company Celebration – 2016 was a monumental year for the company Templar Executives, a London-based cyber security firm. Templar Executives, founded in 2006, was celebrating their own 10th anniversary as a company. To mark this occasion, the management decided to have a bespoke coin created to distribute at the company celebration.
The 10th anniversary was not the only milestone that the company passed in 2016, so there was a different design minted into the backside of the coin. CEO Insights magazine awards a variety of prizes in different categories every year. In 2016, Templar Executives was awarded the title of "Best Cyber Security Firm UK, 2016." This incredible achievement naturally was worked into the design of the backside of the coin.
Refining the Custom Design
After it was decided which side of the coin would lay focus on which milestone, the management of Templar Executives worked together with our Project Consulting and Design Teams to create a refined design for the occasion.
A simple, yet sleek, border was chosen to give the coin a high-value and modern look. The front side of the coin, marking the company anniversary, included text marking the founding year of the company and the company's own logo. The fonts were selected to fit with the company's cooperate design. On the riverside side, the award presented by Insight Magazine was minted on to the back side.
Combining Design and Materials
In regards to the materials used to produce the final product, only the finest were used. The coin was made from a bronze core, giving it considerable weight and a high-value feel. The bronze core was plated in 24k Gold, allowing the coin to shine to its fullest. The coin was then double plated in gold, and completed with a Polished Plate (Mirror Effect) finish. The combination of the beautiful 24k Gold and the polished plate give the coin the over refined look, which matches to the milestones it is commemorating.
The management at Templar Executives was impressed with the quick timeframe that the manufacturing took place in and provided nothing but positive feedback. It is often the case that firms enjoy providing employees, investors, and top clients with coins made or plated with precious metals. Giving gold or gold plated coins is the perfect token of appreciation for hardworking employees, allowing them to have a tangible and eternal gift in the form of a coin from their employer. Templar Executives joined the with the likes of many other companies by providing a high-quality coin as a token of appreciation at their recent 10-year anniversary celebration.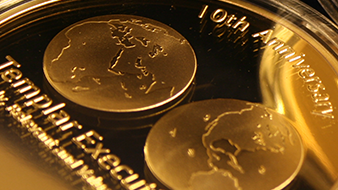 Disclaimer: Our products on this page are known as "Coins" in order to comply with general linguistic usage, . It should be expressly pointed out that it concerns, however, individually embossed medals and no current or former means of payment / currency.